REALIZATED EXPEDITIONS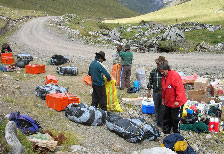 Dear Mario
thank you for your mail
we arived in Lima the 4 juin to the 23
so OK for your programme
we are 4 ( 1 guide and 3 personnes )
best regards
jean yves
grupo tinu
tinu stettler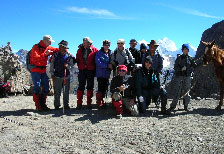 bergführer | multimedia producer
seestrasse 87b | ch - 3800 unterseen
fixnet +41 (0)33 821 21 44 |
mail@dieweberei.ch | www.dieweberei.ch
Martin STETTLER
Peter STETTLER
Dieter VETTER
Verena FANKHAUSER
Therese GERTSCH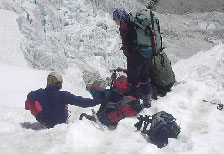 Martina MARK
Doris ISLER
Mario
los datos de los paxs son :
Sr Robert Edwards Australiano
Sra Phyllis Edwards Australiana
Mon cher Mario.
Plus de nouvelles de toi depuis quelques jours .!!
J'ai un mail :jmartinon@club-internet.fr
Résumé du dossier: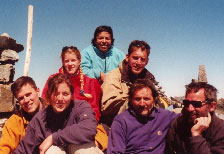 Nous sommes 20 inscrits .8 pour l'Ausangate , 12 pour Colca machu-pichu; je fais partie du trek Ausangate.
Les horaires sont identiques :arrivée à Lima le 5 septembre à 17h35, retour le 27 septembre à 20 05.pour le premier groupe ;
arrivée à Lima le 27 septembre à 17h35,départ de Lima à 20h05.le 19 octobre.
Marie -Christine t'a envoyé les noms des 20 participants ;si tu ne les a pas reçus, je peux te les renvoyer ?
Il y a deja 2 mois que nous sommes rentres et le temps passe vite en France : le
travail, la famille...
Nous tenons a vous remercier des bonnes vacances dans votre pays, nous y avons
accumule de l'energie pour affronter notre vie quotidienne.
Amicalement et bon souvenir.
Renee et Gerard Battaia
Lynch, Timothy <LynchT@Coudert.com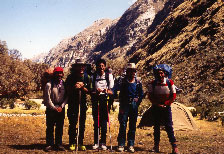 Hi Mr. Mazuelos,
In our rafting trip to the jungle we met Rogger who recommand you for guidding us in Cordillera Blanca.
We are now in Cuzco for the Inca Trail and plan to be in Lima January 7. If we are lucky , we can take the bus to Huaraz the 7 or January 8.
We treked in Canadian Rockies and American Rockies. So in Peru we are reaching higher summit.
Samuel and Karyn (we speak french and are from Montreal, Quebec)
Bonjour,
je reviens du Nepal ou nous avons fait un tres beau voyage.
notre voyage au perou du 11 septembre au 3 octobre.
Tres bon souvenir
Regis
Dr. Bernard Pouyaud
Institut de Recherche pour le Développement (IRD)
Directeur de Recherche, DME, UR GreatIce
en poste au SENAMHI, Pérou
Mission IRD au Pérou : Casilla 18-1209, Lima 18
Tél.: 00 511 266 02 17 - Fax: 00 511 222 21 74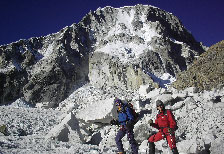 buenos dias
buen viaje para revolver a francia,muchas gracias por
estas cumbres tan bonitas y la organisacion;Mario y
Nelson deben recibir nuestros agradecimientos ;espero
que el coropuna fue un successo
cordiales saludos
Bruno Gazeau
Bonjour,
Je crois savoir que vous parlez français. Si vous ne compreniez pas ce message je pourrai vous l'écrire en Anglais.
J'organise debut septembre 2003 une expédition ALPAMAYO & CHOPICALQUI ( ARTESONRAJU) avec l'agence AZIMUT FRANCE et avec 5 ou 7 personnes.
De bons alpinistes.
Stéphane Monari
Guide de Ht Montagne
La Balme
05120 LES VIGNEAUX / FRANCE
04.92.23.00.45
06.15.31.16.48
smonari@club-internet.fr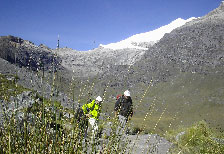 13/julio, (9 pax)
Carmen Elena de Cottin
Leon Henrique Cottin
Diana Sotillo Sarmiento
Luis Alberto García Boidi
Javier Llanos
Carola Schaepe
Emilia de Puyana
Manuel Puyana
Martín Echevarría
Mil gracias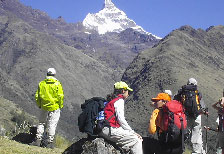 Luisa Elena Luzardo :-P
Andando Mundos
0212-2370711 / 1151
At 08:24 a.m. 28/06/2005, you wrote
des salutations cordiales aux amis qui ont confié leur expédition à jmexpeditions et à son directeur Mario mazuelos guide de montagne uiagm.
merci beaucoup
warm greetings to the friends who trusted their expedition to jmexpeditions and its mazuelos mario manager mountain guide uiagm
thank you very much